A Better Perspective for Home Buyers from Home.co.uk
As both the number of online house hunters and the number of online sources of property information continue to grow, providing proper guidance in using the Internet in the most advantageous way becomes more and more important. To help house hunters get to grips with the online property maze, Home.co.uk has built a comprehensive property search for the UK to enable house hunters to harness the real power of the Internet and access the vast majority of UK homes for sale from just one site.
Start searching now at the Home.co.uk Property Search page.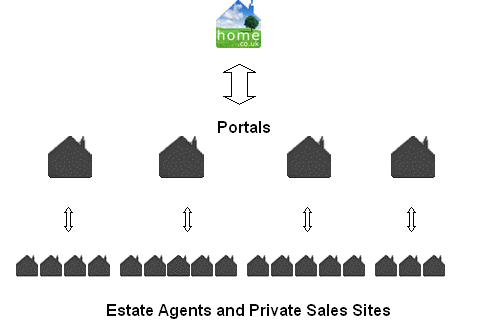 The rapid growth of the Internet in recent years has forever changed the way people buy and sell residential property.
According to online estate agents Yopa, 98 per cent of house hunters use the Web to start their search for property. In fact, traffic statistics expert Hitwise has found that 1% of all internet traffic in the UK is property-related.
The majority of this traffic is due to home hunters executing property searches on portals and contacting estate agents. Altogether, the top three property portals - Rightmove, Primelocation and Zoopla - entertain 16+ million user sessions per month. These figures serve to show how enormously popular online property searches have become, but are users searching effectively?
Traditional House Hunting
Before the Internet, home hunters were limited to traditional media such as local newspapers and there they would see properties advertised by various local estate agents. They may also have visited the offices of their local estate agents on the high street and added their name to the mailing lists. Ideally, one would contact all the estate agents in a given locality. This tedious and time-intensive process is exactly what home hunters hope to avoid by using the Internet in their quest to find properties for sale that match their needs.
Online House Hunting
In the UK around one million residential properties change hands every year. By using the Internet, home hunters can potentially reduce the time spent looking for properties that match their requirements, and house hunting can be done from work or home. Using Internet searches as the main tool to guide you through the property maze enables you to stay in control throughout the process and make sure you get the best deals available. However, despite the obvious benefits of house hunting using the Internet, there are several factors that potential buyers should be aware of.
The Fragmented e-Property Landscape
There are perhaps around a hundred property portals with searchable databases of property advertised for sale in the UK. These sites sell classified advertising space to estate agents and promote themselves on the major search engines and in traditional media (TV, newspapers etc). Individually, even the largest property portals only cover a fraction of the total number of properties currently for sale, and regional coverage can be rather hit and miss. Moreover, there are varying degrees of duplication across the major portals which makes searching for property rather frustrating.
In addition, there are a wide range of IT service providers for estate agents like Teamprop, which also offer searchable selections of UK property for sale via their agent clients. To make things even more confusing, there are upwards of 18,000 estate agent offices, many with their own website, but not all of which upload to the major portals. This means that even the biggest single property advertisers, Rightmove and Zoopla, can only offer the home buyer access to around 80% of property for sale on the Internet. The information available on the web regarding property for sale is clearly huge but highly fragmented. So to search thoroughly a user must surf at least six sites to get reasonable coverage of the properties for sale or rent on the web; a rather time-consuming and frustrating business (a situation little better than visiting the several estate agents that exist on every high street!). For users to truly benefit from using the Internet they need to use a more comprehensive property search.
A Comprehensive Property Search for the UK
Thankfully, a comprehensive property search for the UK already exists at https://www.home.co.uk/. The Home.co.uk property search works like a search engine: first, it locates as many property details pages as possible, then all the pages are indexed and the search database is compiled. Home.co.uk's acclaimed site not only enables buyers to find a property online effectively but users can also compare current house prices, calculate and compare mortgages for the best deals, arrange surveys and valuations and contact removal companies. Home.co.uk also has tips to help you though conveyancing, and has a guide to help you if you choose to do it yourself and save even more money. First and foremost, Home.co.uk offers a massive aggregation of the property data that's available for house hunters on the web.
Property Alerts by Email
If the type of property that a buyer is looking for isn't immediately available, the best way to 'catch it' as soon as it comes on the market is by setting up an Email Alert on Home.co.uk. This powerful method of house hunting works by registering the home hunter's search filter criteria (price, location, number of bedrooms, house type) as set for a search that returns results that equate to the desired type of property. Once registered, new search results will then be emailed to the user as soon as they appear on the market. It couldn't be simpler to set up: simply save the preferred search and enter an email address.
Home.co.uk
Formed in 1996, Home.co.uk has become established as a dynamic, innovative and ethical service. By providing the UK's most comprehensive Property Search and Estate Agents directory coupled with detailed House Price analysis and Market Rents analysis, Home.co.uk delivers the real power of the Internet to inform and empower estate agents, home buyers, renters, landlords and sellers across the UK.
There are 467,475 sales and 109,956 rental entries in Home.co.uk's Property Search Index, which tracks and links to more property by value or number than any single publisher portal. Since 1996, the Home.co.uk website has attracted more than 90 million visits and helped buyers find over 20 million homes.
See also: Home.co.uk Property Search, Find Estate Agents
Back to: Property Help And Advice