Press release: 10th October 2013
A new study from Home.co.uk reveals the locations with the shortest time to sell
A key question for potential vendors is: "How much time will it take to sell my property?" The time it will take to agree a sale is influenced by a multitude of factors such as the property's ability to stand out from others; supply and demand for that type of property; price; and, above all, location. A new study from property website Home.co.uk reveals the extent of variation in the time to sell across postal districts in England and Wales, and pinpoints the fastest markets.
The research, which incorporates in excess of 634,000 data points, reveals the stark contrasts in the typical time to sell a property over the last six months across England and Wales. The vast majority of the South, East of England and Midlands report a median of just 84 days or less, whilst wide swathes of Greater London and the Home Counties are reporting typical sale times of 65 days or less. The lowest figures of just 20 days were recorded in super-hot markets located in parts of Bristol, London and Cambridge.
Shortest Typical (median) Days to Sell Across England & Wales
Greater London
(within the M25)
Elsewhere
1
N5 (Highbury): 20 days
BS3 (Bristol): 20 days
2
SM5 (Carshalton): 20 days
CB1 (Cambridge): 20 days
3
E17 (Walthamstow): 23 days
CB3 (Cambridge): 23 days
4
TW2 (Twickenham): 23 days
CB4 (Cambridge): 23 days
5
E8 (Hackney): 24 days
MK12 (Milton Keynes): 23 days
6
KT5 (Surbiton): 24 days
CV32 (Coventry): 24 days
7
KT9 (Chessington): 24 days
IP33 (Bury St. Edmunds): 24 days
8
SM6 (Wallington): 25 days
RG5 (Woodley): 24 days
9
N16 (Stoke Newington): 25 days
B48 (Alvechurch): 25 days
10
EC3 (City of London): 26 days
AL3 (Redbourn): 25 days
At the other end of the spectrum, property in the northern regions, much of Wales and parts of the South West are taking much longer to sell. Many local markets in these areas of the country remain sluggish, hence the average time to sell a property is edging towards four months or more. Areas that are experiencing the longest selling times are scattered throughout England and Wales, including Haverfordwest (Pembrokeshire), High Peak (Derbyshire) and Mablethorpe (Lincolnshire). The contrast is most prevalent in Mablethorpe, where the typical number of days to sell a property currently stands at 246 - over 12 times longer than the fast turnover markets.
The study indicates that 'time to sell' is highly location dependent. The demand for property in and around the capital remains high and, consequently, the average time to sell is 49 days or less. The London heatmap also illustrates that the areas south of the Thames, which generally offer better value for buyers, are showing the largest cluster of short selling times.
Doug Shephard, director at Home.co.uk, commented:
"This study shows that the property market is functioning very well in many parts of the country. Whilst it is true that the flow of new stock to the market remains very restricted, this data suggests that, across many areas of the country, property is selling well and in very reasonable timeframes. In the high demand areas, the typical selling times can be as low as three weeks, which would please all but the most desperate vendor. Closer inspection of these high performance areas reveals thriving local economies driven by above average household incomes and greater confidence about economic futures. Local markets such as these do not need 'Help to Buy' schemes.
The contrast in the time to sell data serves as a reality check for some of the local markets. The differential between the shortest and longest selling times is substantial, standing at over 200 days or 6.5 months. It is clear that price falls in these struggling markets are not enough to stimulate transaction levels. The real victims of the property bust and subsequent austerity measures, such areas are still suffering with very poor economic performance and low confidence amongst local buyers. 'Help to Buy' could be focused on these deflating markets, and that would deliver real help where it is needed."
Source: Home.co.uk Asking Price Index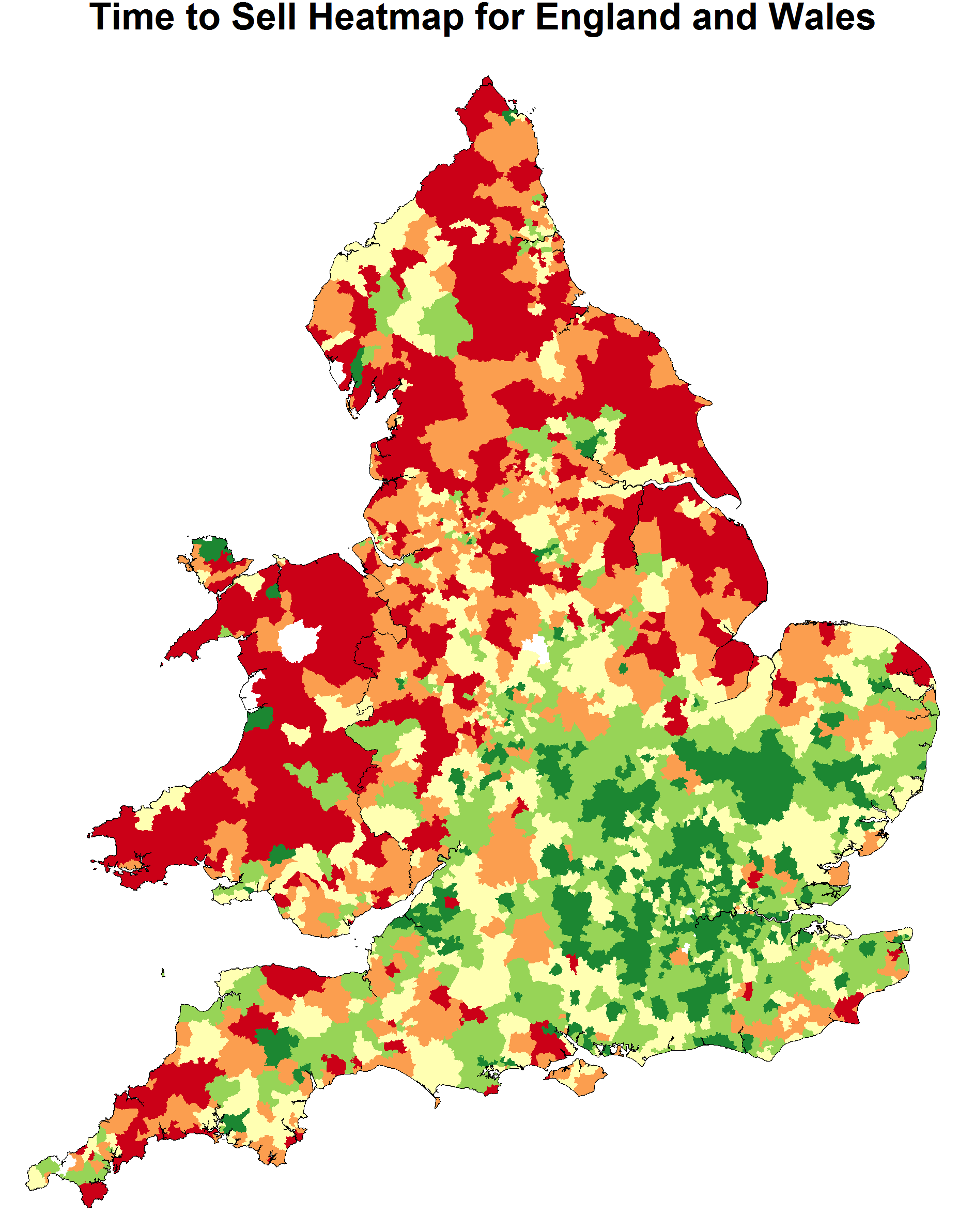 Time to Sell Heatmap England & Wales - high resolution version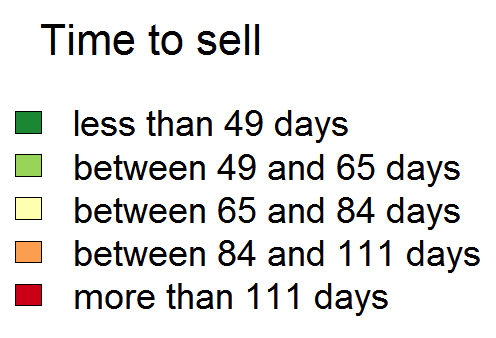 Time to Sell Heatmap London - high resolution version
Notes for Editors
Over the last 24 years, Home.co.uk has become established as a dynamic, innovative and ethical service. By providing the UK's most comprehensive Property Search and Estate Agents directory coupled with detailed House Price analysis, Home.co.uk delivers the real power of the Internet to inform and empower estate agents, homebuyers, renters, landlords and sellers in across the UK.
The methodology was devised by Home.co.uk in collaboration with Dr Phillippe Bracke of the London School of Economics. The map was prepared by Data Economics (www.dataeconomics.com).
Contact Details
Name: Home Team
Email address:
Telephone number: 0845 373 3580
Back to Home.co.uk Press