Press release: 16 Feb 2009
The typical marketing time for residential property has tripled since the onset of the credit crunch, reveals Home.co.uk.
Back in summer 2007, the typical property for sale had spent just 50 days on estate agents' books. Since then the typical marketing time for a property for sale has soared to a record 154 days in January 2009 and now stands at 152 days.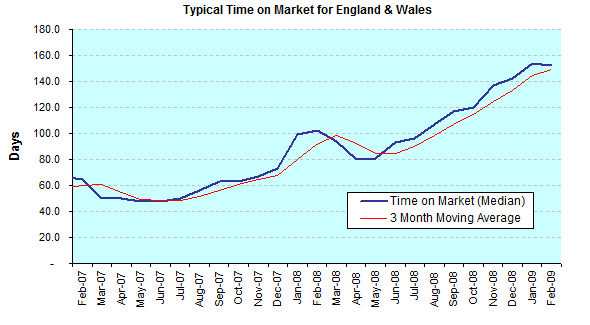 Does this month's dip suggest a market recovery? "Not really," says Doug Shephard at Home.co.uk. "These non-seasonally adjusted figures usually dip during the first few of months of the year."
"Time on Market indicators will continue to rise unless more sellers cut their asking prices or mortgage lenders ask for smaller deposits, preferably both."
The Time on Market figures were produced from a survey of around 17 million recorded entries in the Home.co.uk Property Search Archive covering around 700,000 properties for sale each month over the last 24 months. The Time on Market figure for any given month is the median number of days for which all properties in England and Wales have been advertised for sale online.
The average time on market figures for England and Wales confirm the same picture as the median figures rising from 76 days (July 07) to a disquieting 207 days (Feb 09). Average time on market figures for all UK postcodes and towns, calculated daily, can be found at https://www.home.co.uk/guides/house_prices_by_town.htm.
Notes for Editors
Over the last 24 years, Home.co.uk has become established as a dynamic, innovative and ethical service. By providing the UK's most comprehensive Property Search and Estate Agents directory coupled with detailed House Price analysis, Home.co.uk delivers the real power of the Internet to inform and empower estate agents, homebuyers, renters, landlords and sellers in across the UK.
Contact Details
Email:
Phone: 0845 373 3580
Back to Home.co.uk Press