Press release: 2nd Dec 2014
Home.co.uk Reveals How the UK's Property Market is Taking the Shine off the Value of Gold
The value of the UK property market in terms of gold has increased by 70 per cent over the last three years.
Latest research by Home.co.uk has found that, at the current price of gold, the average UK home would cost 350 troy ounces (around 11 kg). This is a massive increase on the 207 troy ounces (6kg) that would have been needed to buy the average home in November 2011.
Chief causes are strong UK property growth and a steady decline in the value of gold since 2011, when the precious metal's price spiked in the wake of the financial crisis.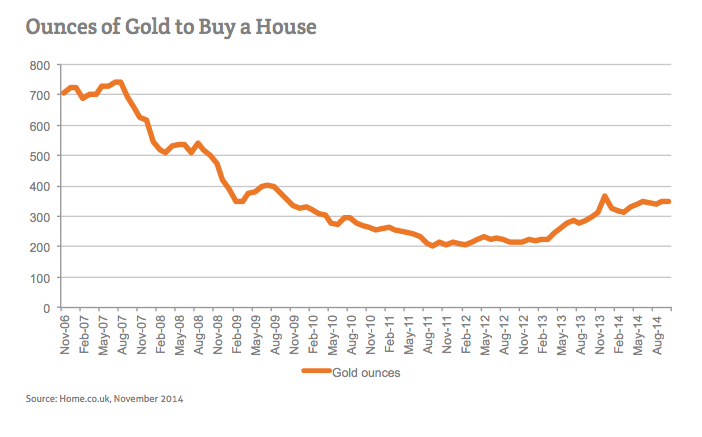 Home.co.uk's Asking Price Index for November reveals the extent to which gold has been tarnished further during 2014 by soaring London prices.
Asking prices in London surged by a further 1.3% between October and November, which helped push the England and Wales average asking price up by 0.2%, the tenth consecutive monthly rise.
But not every region is sharing the capital's property price hikes. Since May, asking prices have fallen by 0.9% in the North East and have remained static in Wales, the North West and Scotland.
Furthermore, less growth in asking prices is expected during 2015, when it is likely that gold and the UK property market will become equally good investments.
Chinese investment in gold is already increasing and is set to continue into next year, when Home.co.uk predicts property prices will rise by 7% overall, with steeper rises in the South.
With around 30% more property set to enter the market next year, it is likely that London property price rises will be less pronounced, with an annual increase of 10% predicted.
Home.co.uk director, Doug Shephard, commented:
"It's been a strong year for UK property and a poor one for gold. UK property has turned out to be the number one safe haven asset for many investors. Even the areas of Prime London that have recently suffered price falls and the northern regions have all fared better than gold over the last three years.
"But 2015 is anticipated to be a less impressive year for UK property prices than 2014. With the London market showing signs of slowing down, we expect the UK average price to rise less quickly next year. Record low mortgage rates will help stoke demand whilst record prices in London and the South East will encourage more potential vendors to cash in. Hence, both supply and demand are expected to rise, thereby increasing the volume of the sales market. As in 2014, buy-to-let will continue to be a highly popular investment choice despite falling yields, caused by a combination of rising prices and a squeeze on lower earners' real incomes.
"Meanwhile, China sees more value in gold bars than bricks; recent reports point to annual demand of over 2000 tonnes per year - this level of gold demand is unprecedented and virtually takes up the entire global mine output. At current prices, this equates to £47 billion, and such a sum would purchase a large part of the current £136 billion UK property portfolio for sale today.
Right now, gold is looking better value for money than UK property. Foreign investors have been fewer this year in prime central London, and prices are falling back in super expensive areas such as Belgravia. Meanwhile, the gold price jumped 2% over the last month after hitting a new 57-month low of £721 per troy ounce."
Source: Home.co.uk Home Asking Price Index.
Notes for Editors
Over the last 24 years, Home.co.uk has become established as a dynamic, innovative and ethical service. By providing the UK's most comprehensive Property Search and Estate Agents directory coupled with detailed House Price analysis, Home.co.uk delivers the real power of the Internet to inform and empower estate agents, homebuyers, renters, landlords and sellers in across the UK.
Contact Details
Email:
Phone: 0845 373 3580
Back to Home.co.uk Press