Press release: 21st February 2014
Home.co.uk Assesses the Impact of the UK's Regional Economic Inequalities
Over the last five years, home prices in Greater London have risen by 27.8% while prices in the North East have fallen 5.8%. The mix-adjusted average house price in Greater London is £424,965 whilst in the North East it is £152,050. Unfortunately, the disparity is not limited to average prices. The typical time on market for property in Greater London stands at just 67 days, compared to 189 days in the North East. Moreover, the gaps are getting wider and wider.
What is sure and certain is that, unlike the capital, the North East is not in the throes of a speculative bubble, but that is little succour for those homeowners trapped in negative equity ever since the financial crisis of 2007.
Since the fall of Northern Rock, we have witnessed a redistribution of housing wealth across the UK. Over recent years, prices have rocketed in London and the South East, taking home values to well above their pre-crisis peaks, whilst other regional markets such as the North East, the North West, Yorkshire & Humber, Wales and Scotland all still register negative price growth over the last five years. Help to Buy may well do some good in these regions, but more jobs would be much better for the regional economies.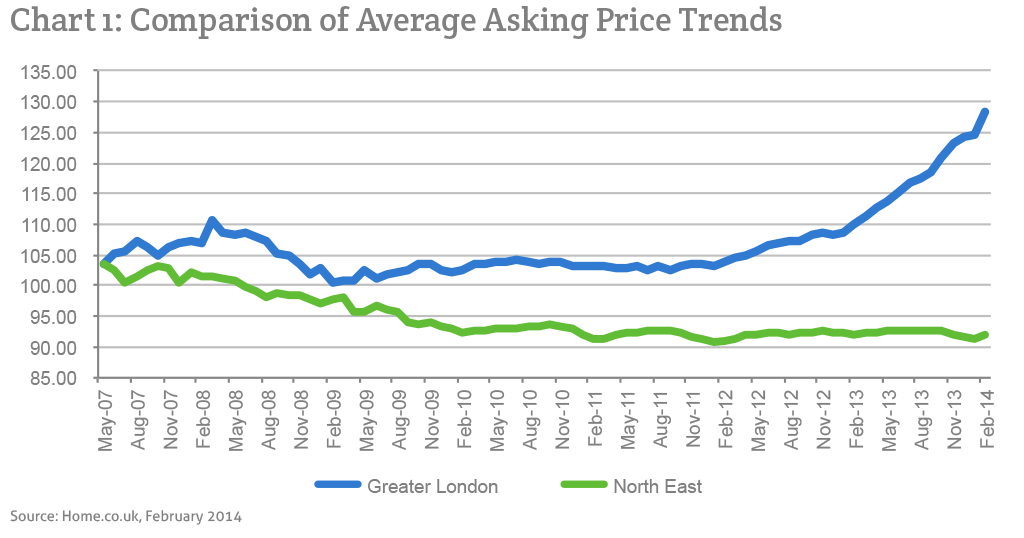 Doug Shephard, director at Home.co.uk, commented:
"Clearly, a one-size-fits-all economic policy cannot work across such disparate markets. The North, Wales and Scotland need to see more stimuli and less austerity.
However, aside from the gross economic inequalities between the North and South, the greatest danger lies in the fact that London and the South East alone represent more than half the value of the English private housing stock. The Greater London property bubble is now spreading out into the South East and East Anglia, and should these property markets crash, they will take down the rest of the country with them.
The Bank of England is currently 'stress testing' UK mortgage lenders to see if they could withstand such a catastrophe, but I think we already know that it very much depends on how far prices fall and that, in turn, depends on how far they are inflated in the first place. Rebalancing property equity between the North and South would go some way to achieving a safer and more sustainable housing market."
Source: Home.co.uk Asking Price Index
Notes for Editors
Over the last 24 years, Home.co.uk has become established as a dynamic, innovative and ethical service. By providing the UK's most comprehensive Property Search and Estate Agents directory coupled with detailed House Price analysis, Home.co.uk delivers the real power of the Internet to inform and empower estate agents, homebuyers, renters, landlords and sellers in across the UK.
Contact Details
Email:
Phone: 0845 373 3580
Back to Home.co.uk Press