Press release: 18th March 2013
The trend in property prices is just one measure of the market's wellbeing but a healthy market will also show a rising stock flow. One metric that illuminates this is the UK Home Market Turnover Indicator which measures the flow-rate of property through the sales market. Home.co.uk has tracked the Home Market Turnover Indicator (HMTI) since 2005 and consequently this measure provides a robust viewpoint on stock flow rate.
The HMTI, currently at 2552 properties per day, is 8.7% down on March last year showing that, overall, the UK property sales market is still shrinking year-on-year. 2007 registered a HMTI high of over 10,000.
In England and Wales the current typical time on market (for unsold property) in March 2013 has fallen by one day to 136 days (median) and is 11 days less than in March 2012. Marketing times have been trending down in recent years but remain considerably longer than during the boom time of when the typical time on market was just 50 days (March 2007).
Taking a closer look at the relative performance of the regional markets, there are wide variations in how long property is spending on the market. It will come as no surprise that Greater London enjoys the shortest time on market (typically under 100 days). By contrast, property stock in the North East moves at a glacial pace with a median time on market of 205 days, over twice as long as the London market.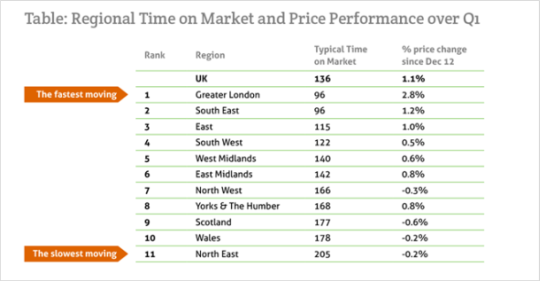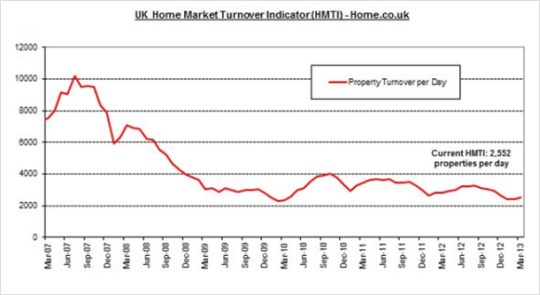 Doug Shephard, director at Home.co.uk commented:
"With the exception of the Yorkshire region, the bottom half of the table clearly highlights the direct relationship between time of market and price performance. Compared to the national average, property in the struggling regions is on the market for an extra 46 days or around 1.5 months.
Given the current state of the property market, this is a key metric to track throughout the year and can provide estate agents, buyers and vendors alike an insight into the fluidity of the local markets and their ability to drive transactions."
Source: Home.co.uk Asking Price Index
Notes for Editors
Over the last 24 years, Home.co.uk has become established as a dynamic, innovative and ethical service. By providing the UK's most comprehensive Property Search and Estate Agents directory coupled with detailed House Price analysis, Home.co.uk delivers the real power of the Internet to inform and empower estate agents, homebuyers, renters, landlords and sellers in across the UK.
Contact Details
Email:
Phone: 0845 373 3580
Back to Home.co.uk Press