Press release: 19 September 2018
The number of available properties to rent is falling at an alarming rate, particularly in Greater London, according to latest figures from Home.co.uk.
This is bad news for tenants, who are facing higher rents and stiff competition to secure the best homes. Rents have already risen by 4.0% in the Greater London area over the last 12 months.
The number of available homes to rent in Greater London that have been on the market for 20 weeks or less plummeted by 24% over the last year, from 52,388 in August 2017 to 39,746 in August this year.
In fact, the current number of properties available to let is at its lowest level since March 2015.
An average yield of just 3.7% in August in the capital, compared to 4.7% across mainland UK, looks to be a key factor in landlords leaving the rental market in London.
Across mainland UK, the supply of all available homes to rent, including hard to rent properties that have been on the market for more than 20 weeks, has fallen by more than 10,000 since July 2017, from 233,453 to 223,115.
Aside from London, another particularly badly hit area is the South East, where supply of all available rental properties fell from 30,066 in August 2017 to 27,728 in the same month this year.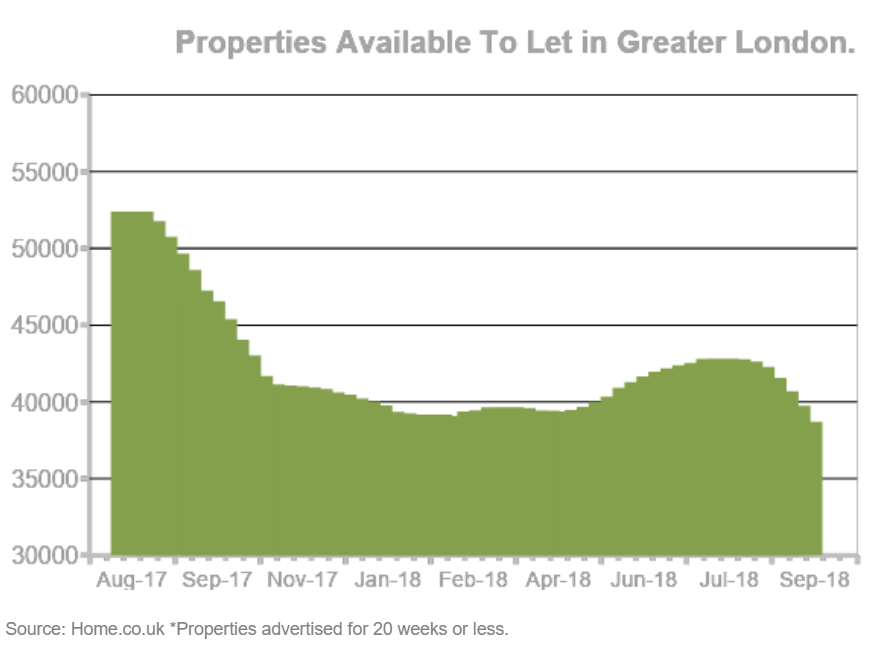 The dearth of rental property in the capital is likely a direct result of a raft of costly new legislation and taxation measures imposed on the sector. As a consequence, landlords are throwing in the towel.
From Aprilm individual buy-to-let investors will be unable to offset all their mortgage interest against their profits and, within the next three years, none of this interest will be tax deductible.
Another intervention has been increased red tape for landlords due to additional licensing for Homes of Multiple Occupancy (HMOs), whereby councils can impose their own licensing on HMOs.
Vendor landlords have done their maths and they know that if they continue to let the property, even with a modest rent hike, they will now be losing money overall. Their conclusion is simple - it is time to sell.
"The main driver for rent hikes going forward is an alarming lack of homes to rent, especially in Greater London," said Home.co.uk director Doug Shephard. "24% is a huge drop and much of it can be ascribed to the BTL exodus.
Basic economics tells us that when supply falls prices must rise. In the case of London, it looks like rents will increase quickly - and they need to.
For too long, rents have lagged behind house price inflation, to the point where yields have sunk too low. Rental returns fundamentally underpin property values and London prices desperately need a fillip to prevent the slide into negative equity.
Watch the rents. It's catch-up time."
Notes for Editors
Over the last 27 years, Home.co.uk has become established as a dynamic, innovative and ethical service. By providing the UK's most comprehensive Property Search and Estate Agents directory coupled with detailed House Price analysis, Home.co.uk delivers the real power of the Internet to inform and empower estate agents, homebuyers, renters, landlords and sellers in across the UK.
Contact Details
Email:
Phone: 0845 373 3580
Back to Home.co.uk Press