Press release: 17th Dec 2015
Home.co.uk is Predicting Further Price Hikes Next Year as Available Housing Stock Continues to Fall
House prices are set to continue rising during 2016 due to a lack of available housing stock in the property market.
Latest figures from Home.co.uk's December Asking Price Index show there are 47% fewer properties for sale than in December 2007.
This month, there were just 405,278 properties on the market in England and Wales, down 16.1% on December 2014's figure of 483,224.
This is creating a vicious circle of price hikes that are set to continue throughout 2016, and follows a rise of 8% in England and Wales' property prices in 2015.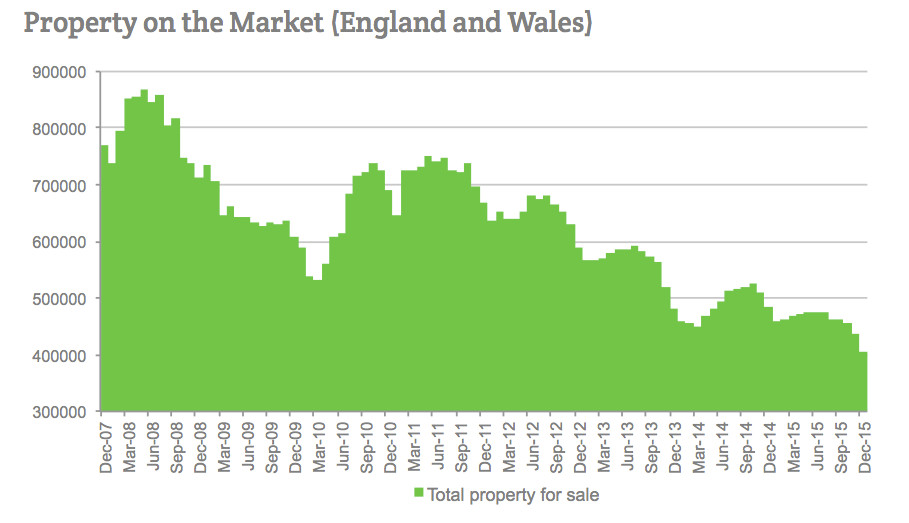 Already, regions with the biggest shortages of available housing for sale are experiencing the quickest price rises, with the East of England in particular set for continued rapid price hikes next year. Between November 2010 and November 2015, the supply of property in the East slumped by 27%, while prices in the region rocketed by 10.6% over 2015.
Scotland's housing supply fell by 13% between November 2010 and November 2015. Other areas where the supply of properties for sale dried up over the same period include the East Midlands, which saw a fall of 12%, and the West Midlands, where supply dropped by 11%. The South East is another region to experience a drought in the volume of property for sale, with supply falling 10% over the same period.
Only two areas saw an increase in housing stock for sale between November 2010 and November 2015; Yorkshire and the Humber, where supply increased by 10%, and Wales which saw a 2% rise.
For 2016, Home.co.uk is predicting a similar range of regional price rises as witnessed in 2015. However, due to further contractions in supply, the East of England and the South East are expected to outperform Greater London over the next 12 months. Buyers in Scotland, the West & East Midlands and the South West are advised to brace themselves for a year of rapid price growth as the supply crisis ripples out to these regions.
Home Price Predictions for 2016 by Region
| | |
| --- | --- |
| East | 13% |
| East Midlands | 6% |
| Greater London | 9% |
| North East | 1% |
| North West | 2% |
| Scotland | 7% |
| South East | 12% |
| South West | 6% |
| Wales | 2% |
| West Midlands | 7% |
| Yorks and the Humber | 2% |
| England and Wales | 9% |
Meanwhile, typical time on the market has also fallen due to this imbalance between high demand and low supply. In England and Wales, the typical time on the market in December this year is 104 days, compared to 110 days a year ago.
Home.co.uk director Doug Shephard commented: "Next year is set to see the vicious circle of spiralling prices and falling supply deepen even further as buyers take advantage of cheap credit to chase ever fewer properties.
"The low interest rates that have allowed the UK government to service extraordinary debt levels and fuelled an artificial house price boom look set to stay."
Source: The Home.co.uk Asking Price Index
Notes for Editors
Over the last 27 years, Home.co.uk has become established as a dynamic, innovative and ethical service. By providing the UK's most comprehensive Property Search and Estate Agents directory coupled with detailed House Price analysis, Home.co.uk delivers the real power of the Internet to inform and empower estate agents, homebuyers, renters, landlords and sellers in across the UK.
Contact Details
Email:
Phone: 0845 373 3580
Back to Home.co.uk Press