Press release: 20th March 2014
Home.co.uk Investigates How Flat Prices Have Changed in London's Postal Districts
New research from property website home.co.uk shows that, behind the headline price rises for London, there is in fact a very mixed picture of fortune depending on location. The detailed study, which looked at the price of flats across London's 118 postal districts over the last six years, reveals that it is the most desirable areas that have benefitted most during the capital's post-crisis property market recovery.
Flats dominate the private housing stock in highly urban environments. In Greater London, they constitute 46% of all property types whilst in Central London, flats represent 92% of the current sales stock. The top ten ranking postal districts for flat price increases all show growth in excess of 100% since 2008. Huge swathes of central and west London continue to be in high demand from UK and foreign buyers alike, placing considerable price pressure on the limited stock. SW8 has shown the most astonishing price rises; flats have nearly tripled in value in this postal district over the last six years. Of the top ten, only the W6 district (Hammersmith) has an average flat price below the £1million price tag. In 2008, only two of these ten districts (SW3 and SW7) showed average flat prices topping the million mark.
Winners: Top 10 Postal Districts (based on change in average asking prices 2008 to 2014)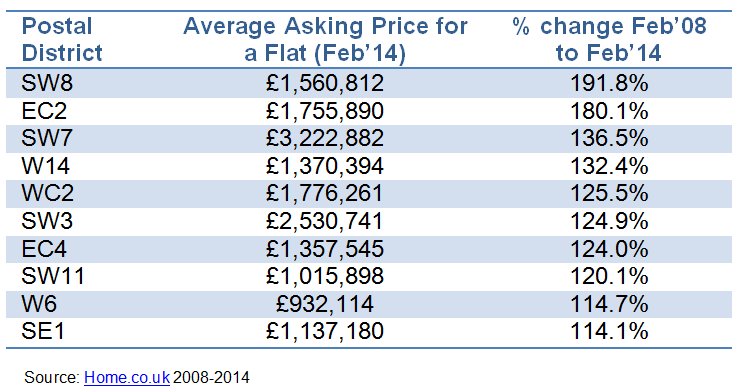 At the other end of the spectrum, the worst performing districts for flat prices are all located in North and East London. Perhaps most surprising is that flats in these areas have not yet recovered their pre-crisis values. Whilst these are not necessarily the cheapest flats in the capital, they are certainly among the more affordable, yet less desirable, areas. The average price drop since 2008 across these ten districts is 11.9%. These areas may offer some hope to first-time buyers and clearly provide potential opportunities for developers and buy-to-let investors. The lowest average price for a flat (£141,818) can be found in SE2 (Abbey Wood district) although this area has shown marginal price growth of 0.9% since 2008.
Losers: Bottom 10 Postal Districts (based on change in average asking prices 2008 to 2014)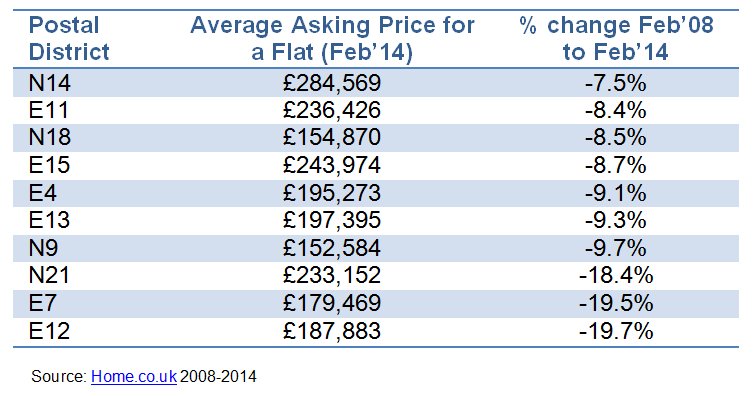 Doug Shephard, director at Home.co.uk, commented:
"Flats are the natural choice of property for first-time buyers. As the UK's macroeconomic measures slowly recover, buyers are increasingly desperate to get a foot on the property ladder.
Housing affordability in our capital is not a new issue. However, our study shows both a dramatic diversity of fortune depending on location, and that there are still affordable parts of London not caught up in the speculative bubble.
The price difference between SW7 and SE2 for an average flat is over £3million and serves as a startling reminder of the extreme diversity of the London market. In fact, when we look beyond the gross averages, the London market may be observed as a microcosm of the UK market, with both booming and lacklustre areas in terms of price performance.
The reality is that, as price trends continue on their upward trajectory in the more desirable areas, the vast majority of potential buyers will be forced to make further compromises both on the type and location of their first property in order to fit their budgets."
Source: Home.co.uk Asking Price Index
Notes for Editors
Over the last 24 years, Home.co.uk has become established as a dynamic, innovative and ethical service. By providing the UK's most comprehensive Property Search and Estate Agents directory coupled with detailed House Price analysis, Home.co.uk delivers the real power of the Internet to inform and empower estate agents, homebuyers, renters, landlords and sellers in across the UK.
Contact Details
Email:
Phone: 0845 373 3580
Back to Home.co.uk Press