Press release: 22nd August 2016
Brexit fears are compounding a downward spiral in the Greater London property market as vendors desperately look to cash in on years of house price inflation in the capital.
Latest figures released by Home.co.uk reveal that between July and August asking prices dropped 1.2%.
This is the third monthly fall in a row, with Greater London's average asking prices slumping 1.1% between June and July and by 0.4% the previous month.
The annual rate of price inflation for Greater London property now stands at just 2.5% and falling. Home.co.uk is predicting this will slide to 0% within a mere two months, highlighting the very real danger that negative equity is just around the corner.
Foreign buyers who purchased within the last 12 months are now likely to already be in negative equity. In terms of euros, Greater London home prices have shown a dismal performance over the last year, with values in the region dropping 11% since May and 17% since November last year. There is a potential upside that European buyers may be attracted back to the market but house prices and sterling will need to stabilise for that to occur.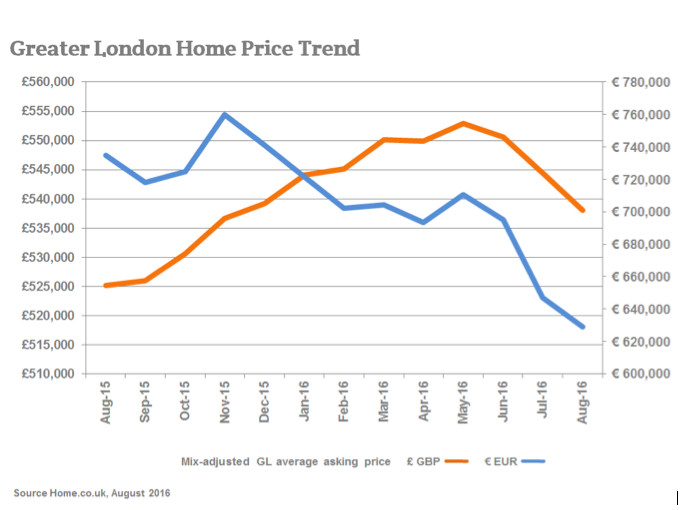 Housing supply figures from Home.co.uk strongly suggest further price falls are inevitable in the capital, as Greater London vendors overload the property market in the aftermath of June's Brexit vote.
Between July 2015 and July 2016, new listings in London leapt by 27%, compared to a year-on-year rise of 6% the month before.
The Typical Time on Market has also risen sharply in the capital, from 68 days in July to 73 days in August. This is forcing vendors to slash prices further, in a property market that was already in a precarious position through Buy-to-Let taxation changes and warnings about overvaluation.
The South East of England, where asking prices fell by 0.2% in August for the second month in a row, is showing signs of becoming the next property price slump hot spot, as panic selling in the capital spreads out into its commuter belt and beyond.
Between July 2015 and July 2016, the supply of property for sale in this region rose by 19%, and Home.co.uk is predicting that the South East's Typical Time on Market of 63 days is likely to rise markedly due to the boost in supply in this region.
Doug Shephard, director at Home.co.uk, says: "It is clear that the referendum result certainly unnerved many investors. We will be keeping a particularly close eye on the London market over the next month, watching whether or not the surge in new listings becomes a stampede.
"This would inevitably lead to a home price crash in the region and stress mortgage lenders to the limit or beyond. Property investors would be well advised to weather the storm and not join a suicidal rush to market."
Source: Home.co.uk Asking Price Index
Notes for Editors
Over the last 27 years, Home.co.uk has become established as a dynamic, innovative and ethical service. By providing the UK's most comprehensive Property Search and Estate Agents directory coupled with detailed House Price analysis, Home.co.uk delivers the real power of the Internet to inform and empower estate agents, homebuyers, renters, landlords and sellers in across the UK.
Contact Details
Email:
Phone: 0845 373 3580
Back to Home.co.uk Press