Press release: 13th Mar 2015
OnTheMarket (OTM) has a mountain to climb to overtake Zoopla in the property portal market, according to latest research by the property search engine Home.co.uk.
OTM, which went online at the end of January and is run by high street estate agents co-operative Agents' Mutual, imposed a highly controversial 'one other portal' rule on agents using the site to give them a competitive advantage.
This requires agents wanting to join OTM to drop one of the two leading property portals (Rightmove and Zoopla) and stop advertising their clients' properties on other smaller portals.
But, despite making inroads into Zoopla's market share, OTM remains far behind and has so far failed to make any real impact on agents' use of Rightmove.
With 4,927 agents signed up by March 10, OTM looks to have only achieved fifth place among property portals, behind Rightmove, Zoopla, Primelocation and Mouseprice, and just ahead of sixth-placed Nethouseprices.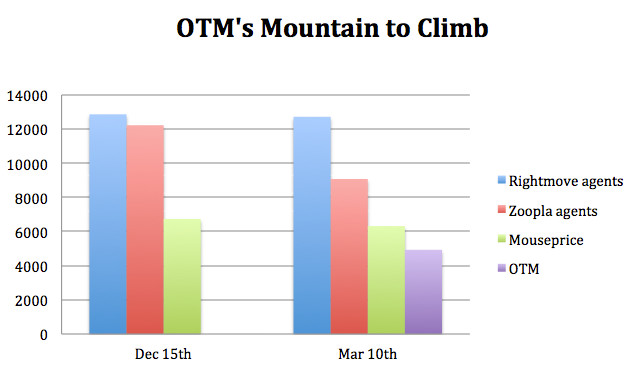 Home.co.uk's latest figures, which are based on agent sales office data, reveal the extent to which OTM's controversial tactics have affected Zoopla, but not Rightmove.
Figures show that the day after OnTheMarket's January 26 launch, Zoopla was used by 10,712 agency offices. But, by March 10, this had fallen to 9,072.
Meanwhile, over the same period, the number of agents using Rightmove barely moved, with its January 27's tally of 12,850 falling by just 138 to 12,712.
Looking further back, the figures show that many of those who jumped ship from Zoopla did so before OTM's launch.
On December 15, Zoopla had 12,218 agents, which means the portal has suffered an exodus of 3,146 agents over the last three months. Over the same period, Rightmove lost just 144 agents.
Property Portal Sales Agents (Dec 15, 2014 - Mar 10, 2015)
| | Dec 15 | Mar 10 |
| --- | --- | --- |
| Zoopla sales agents | 12,218 | 9,072 |
| Rightmove sales agents | 12,856 | 12,712 |
| Sales agents advertising properties on both Zoopla and Rightmove | 10,073 | 6,933 |
| Mouseprice sales agents | 6,733 | 6,314 |
| OTM sales agents | | 4,927 |
| Sales agents advertising properties on OTM | | 4,313 |
However, on this evidence, OTM looks a long way from its aim of breaking into the top two at the expense of Zoopla. Moreover, it appears that just over 600 of these agents have yet to get clients' properties uploaded to the new portal.
There is also emerging evidence that the exodus from Zoopla is tapering off, making OTM's task tougher in the months ahead.
On March 10, there were 6,933 agents continuing to use both Zoopla and Rightmove, a tally that has fallen by just 108 since February 25, compared with a fall of 1,142 between January 27 and February 2.
Latest online traffic figures also show how far OTM has to go to break the property portal duopoly of Rightmove and Zoopla. According to the Alexa Traffic Rank, OTM was in 38,233rd place, a long way behind Rightmove's rank of 859, Zoopla's 1,920th place and Primelocation's rank of 11,741.
Home.co.uk director, Doug Shephard, said: "OTM was recently launched with the purpose of breaking a perceived duopoly in online property advertising, namely Rightmove and Zoopla, although there are in fact many more true portals helping sell properties on the web, such as Mouseprice, Primelocation, Nethouseprices, MyHomesUnlimited and Whathouse.
"It's not just bad news for Zoopla and several other portals. It's bad news for the consumer too. Around 3000 agencies now have a much reduced advertising reach for their clients' properties. Vendors must be concerned that insufficient market exposure could cost them both time and money."
Zoopla has stated that Agents' Mutual's insistence that those agents who use OTM must only use one other property portal smacks of restrictive practice, and the legality of this policy may well be investigated in the near future.
Source: Home.co.uk Home Asking Price Index.
Notes for Editors
Over the last 27 years, Home.co.uk has become established as a dynamic, innovative and ethical service. By providing the UK's most comprehensive Property Search and Estate Agents directory coupled with detailed House Price analysis, Home.co.uk delivers the real power of the Internet to inform and empower estate agents, homebuyers, renters, landlords and sellers in across the UK.
Contact Details
Email:
Phone: 0845 373 3580
Back to Home.co.uk Press