Press release: 30th Mar 2015
OnTheMarket (OTM) agents have recorded dramatic reductions in the time their clients' properties are advertised for sale, according to latest research* by the property search engine Home.co.uk.
Property portal OTM was set up by high street estate agents co-operative Agents' Mutual in January this year with a 'one other portal' rule on agents using the site.
The portal was launched in a bold attempt to quash the dual dominance of Rightmove and Zoopla in the property portal sector. The controversial 'one other portal' rule prompted fears across the industry that OTM agents may not be marketing their clients' properties well enough, but this latest research by Home.co.uk indicates that OTM agents' strategy has actually cut their average marketing times to below that of non-OTM members.
On 1st January the average time that OTM members' properties were on the market was an underperforming 224 days but by 19th March this had plummeted to a mere 195 days (significantly less than non-members' average time on market of 202 days).
In addition, since 1st February OTM members have consistently recorded average marketing times lower than those not using the property portal.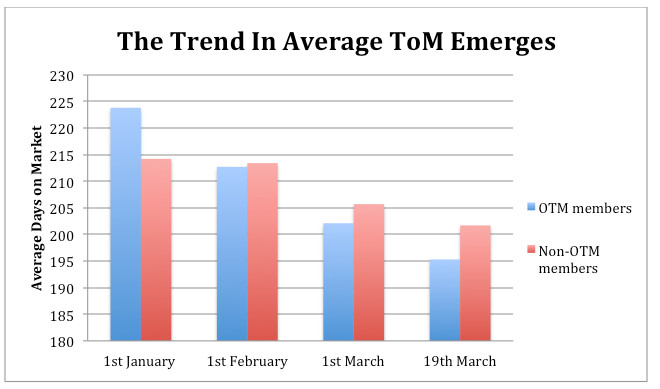 On 1st January the average time on the market for non-OTM members was ten days less than those using OTM. But by 15th February the average time on the market for OTM members was one day less than for non-members.
By 19th March the improvement was even more pronounced, with the average time on market for OTM members being six days less than for non-members.
Research released earlier this month by Home.co.uk, related to OTM's share of the property portal market, showed that the new portal had made significant inroads into Zoopla's market share while leaving Rightmove relatively untouched.
Home.co.uk's latest research suggests that the move by the vast majority of OTM members to market properties with Rightmove as their 'one other portal' is working to their advantage. The statistics support their choice too, as the average time on the market for Rightmove members' properties is an impressive 74 days less than among non-members.
Home.co.uk director Doug Shephard said: "Our data analysis indicates that OTM agents made the right choice for their respective businesses. OTM agents are looking like the UK's 'go-getters' in the estate agency arena and their drive and ambition is paying off.
"In terms of marketing times, vendors should not be concerned about using an agent that has switched to OTM. In fact, they are now slightly better than the rest on this basis."
*The Home.co.uk figures are calculated based on all properties found advertised for sale on 1st Jan, 1st Feb, 1st Mar and 19th Mar 2015 across all agent offices with properties for sale on all four dates. Each agent office's membership of OnTheMarket, Rightmove or Zoopla is based on properties advertised for sale on 19th March. The Time on Market figures are the average number of days since first listed of all properties found advertised for sale by the relevant agent offices on the date of the sample. The figures are accurate within +/- 2 days. NB: Time on Market is not the same measure as Time to Sell.
Notes for Editors
Over the last 27 years, Home.co.uk has become established as a dynamic, innovative and ethical service. By providing the UK's most comprehensive Property Search and Estate Agents directory coupled with detailed House Price analysis, Home.co.uk delivers the real power of the Internet to inform and empower estate agents, homebuyers, renters, landlords and sellers in across the UK.
Contact Details
Email:
Phone: 0845 373 3580
Back to Home.co.uk Press