Press release: 29th May 2014
Home.co.uk Investigates How Marketing Times Vary Across the UK
The typical Time on Market for England and Wales (90 days) for unsold property is now the shortest it has been since April 2008. In fact, one could argue that this figure is consistent with 'normal' market conditions.
However, 90 days is simply the median figure across both overheating and cooler regional markets. Britain's property market still remains bipolar, and this is especially true from the perspective of marketing times. Looking at the same metric across the regions shows a very diverse property market.
At one extreme, Greater London indicates an ultra-low marketing time of 48 days, which is equivalent to the on-market time observed in the previous boom. The South East is also a fast market showing boom-time length marketing times as supply slows to a mere trickle and properties get snapped up by eager buyers spurred on by the Help to Buy scheme.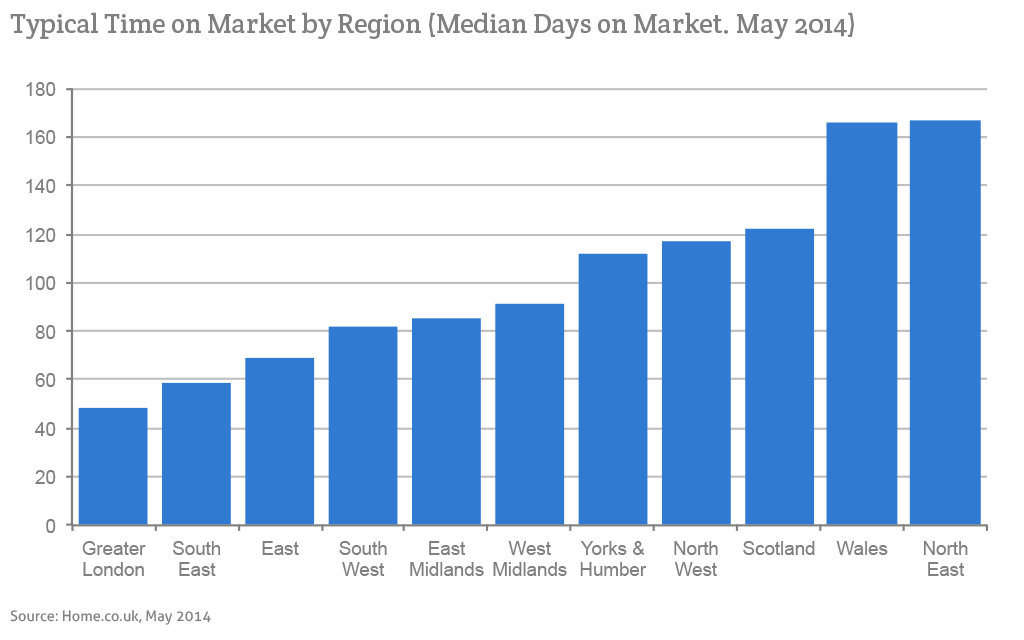 By contrast, the North East and Wales show a typical on-market time of 167 and 166 days respectively. These and similar slow regional markets are burdened by a backlog of properties that have been on the market a long time, in many cases more than a year. Vendors there are simply waiting for the market to pick up, and yet the harsh economic conditions in the North, Wales and Scotland coupled with ample supply relative to demand are hindering recovery of these regional markets, despite the Help to Buy scheme and low interest rates.
Doug Shephard, director at Home.co.uk, commented:
"The UK property market remains highly diverse in respect of marketing times. London seems a world away from the difficult and slow markets in the North. The sub-inflation price rises observed in Yorkshire, the North West, Scotland, Wales and the North East correlate well with the long marketing times shown above and indicates that, contrary to the rest of the country, supply is broadly in balance with demand in these regions.
However, market conditions are currently improving rapidly in the North, Scotland and Wales. Hence, we may soon be able to add some, if not all, to the list of booming regional markets over the next 12 months. Goodness knows how the London and South East markets will look by then."
Source: Home.co.uk Asking Price Index
Notes for Editors
Over the last 24 years, Home.co.uk has become established as a dynamic, innovative and ethical service. By providing the UK's most comprehensive Property Search and Estate Agents directory coupled with detailed House Price analysis, Home.co.uk delivers the real power of the Internet to inform and empower estate agents, homebuyers, renters, landlords and sellers in across the UK.
Contact Details
Email:
Phone: 0845 373 3580
Back to Home.co.uk Press