Press release: 19th November 2013
Home.co.uk Compares the Capital's Recent Price Growth to the Boom of 2007
Prices in London are booming and, in recent months, have been accelerating at a faster rate. With all the debate around whether the capital's property market is entering yet another bubble, home.co.uk compares the recent growth with the boom of 2007.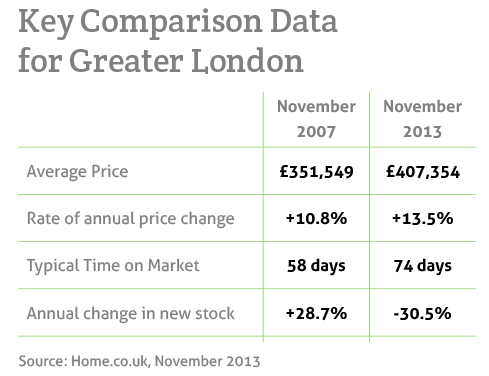 The direct comparisons reveal booming markets but with very different backdrops. During the 2007 boom, the market was being flooded with new stock, transactions were relatively high and, consequently, the typical time on market was under two months. The current backdrop is the very opposite, with prices being driven by a sheer lack of stock that is overwhelmed by a consistently high level of demand. Moreover, price growth this time around is focused on the prime areas of London.
Prices in London are now 15.9% higher than in November 2007, but the key fact here is that growth is at a higher rate. Annual growth now is 2.7 percentage points higher than in 2007 and the price trends also indicate that growth is stronger this time round.
The flow of new property stock last month is down 30.5% compared to a year ago and is no doubt placing further pressure on prices. Property is selling though, and the typical time on market for Greater London now stands at just 74 days, the shortest time recorded since the end of 2007.
Doug Shephard, director at Home.co.uk, commented:
"London continues to astound housing analysts, buyers and vendors alike, and it clearly does not require any further stimulation. The fact that the growth is stronger than the boom in 2007 may well be welcomed by vendors but only if they are not also looking to buy a further property in the capital, as the competition is vicious.
Investment and government schemes need to be focused on the areas of the UK that are struggling, hence our calls for the Help to Buy scheme to be implemented in a more targeted manner. Such vote-winning schemes will not help in vibrant markets such as London; instead they will simply serve to further elevate already spiralling prices."
Source: Home.co.uk Asking Price Index
Notes for Editors
Over the last 24 years, Home.co.uk has become established as a dynamic, innovative and ethical service. By providing the UK's most comprehensive Property Search and Estate Agents directory coupled with detailed House Price analysis, Home.co.uk delivers the real power of the Internet to inform and empower estate agents, homebuyers, renters, landlords and sellers in across the UK.
Contact Details
Email:
Phone: 0845 373 3580
Back to Home.co.uk Press