Press release: 16th April 2013
Homeowners in the capital are currently enjoying an extraordinary housing market rally. The typical time of market for unsold property is the lowest in the country at just 75 days (4 days less than in April 2012) and falling. Home prices are going stratospheric and have risen by 7.3% over the last year, which equates to almost 2.5 times the national average growth rate. Moreover, owners are seemingly disinclined to sell for the time-being (as indicated by a 19% annualised fall in new property sales listings) and who can blame them when they are benefiting from one of the best performing assets there is.
Our research shows that, even when excluding properties over one million pounds, the average London property owner is currently enjoying a gain in equity value of over £2,100 per month on a property worth £372,984. Such rises dwarf the average monthly gains achieved by other areas of the South and is a stark contrast to the annual negative equity value realised in the North West.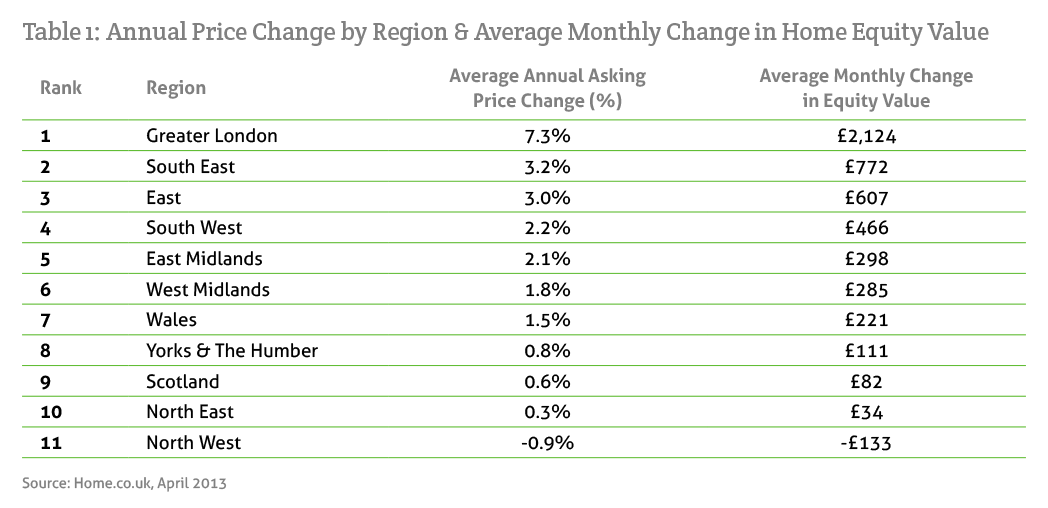 The London property market has not entirely escaped the impact of the current economic conditions and restrictions on mortgage lending. Consequently, there has been a dampening of demand for properties towards the lower end of the market in less affluent areas. However, soaring average prices in Greater London are being driven by huge rises in the more desirable areas and it is in those areas where home equity is being accumulated at a feverish pace.
Overall, the larger the property the greater the gain in monthly equity value will be. In effect market demand is being driven by those who can afford to move and have already benefited from significant gains in equity value.
London is far from a homogeneous property market and the average changes in monthly equity value will vary by area. Taking an average 2-bed sales property, the top 5 performing areas over the past 12 months are Bloomsbury, Shoreditch, Bethnal Green, Chelsea and Elephant and Castle. At the other end of the performance scale are areas in North West London including Edgware, Harlesden and Willesden, all of which have experienced falls in average equity value.
Doug Shephard, director at Home.co.uk commented
"Such rises in property values reflect the insatiable demand for property in the capital and with supply so limited prices look set to soar even higher this year. Supply is likely to remain low as London homeowners hang onto their highly appreciating property assets.
Of course the reality is that such equity gains can only be realised if the owner actual sells their property and either downsizes or moves to a far more affordable region. Given the relative cost of moving up the ladder, in many cases, buying another property in the capital is likely to neutralise these gains."
London prices are currently 4% higher than their previous property boom peak set in April 2008 and rising.
Source: Home.co.uk Asking Price Index
Notes for Editors
Over the last 24 years, Home.co.uk has become established as a dynamic, innovative and ethical service. By providing the UK's most comprehensive Property Search and Estate Agents directory coupled with detailed House Price analysis, Home.co.uk delivers the real power of the Internet to inform and empower estate agents, homebuyers, renters, landlords and sellers in across the UK.
Contact Details
Email:
Phone: 0845 373 3580
Back to Home.co.uk Press