Press release: 21 Dec 2012
UK house prices recovered some lost ground in 2012 but new research from home.co.uk reveals that it is detached homes that have best kept their value over the last five difficult years.
Key facts
Overall, the average asking price for all UK property has fallen by 5.4% since December 2007
Over the same 5 year period prices for detached properties have actually increased by 0.3%
By contrast, over the past 5 years flats have registered a catastrophic fall of over 17%
Following the banking bust prospective property buyers and vendors alike have been faced with great challenges. However, research from home.co.uk has revealed that the type of property owned is an additional factor to consider in terms of affordability and potential return on capital.
The research looked at average asking price trends for each of the 4 main property types over the past five years and reveals that detached homes are the only property type to have retained their value. Since December 2007 the average price of a detached property has increased marginally by 0.3%. All other property types have lost value: semi-detached (-11.6%), terraced (-15.1%) and flats faring worst with an average fall of 17.1%.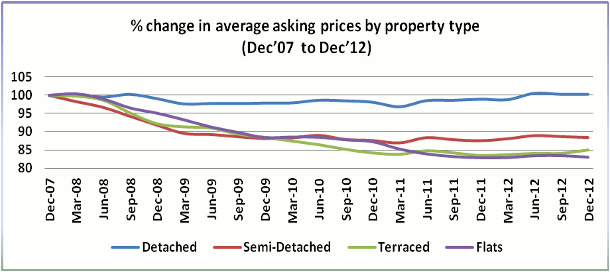 Doug Shephard, director at Home.co.uk, commented:
"Over the last 5 years restricted mortgage lending, especially to first-time buyers, has put immense pressure on the prices of flats and smaller houses. Demand from buyers has fallen drastically in the Northern regions, Wales and Scotland whilst buy-to-let purchasers looking to maximise rental yields have been negotiating strongly on completion prices. The ongoing challenge of securing finance combined with the fear of negative equity has damaged the confidence of both first-time and next-time buyers.
"However, at the upper end of the market, so-called 'home movers' have been a safer bet for the banks; they are typically older, have more established careers and already own considerable equity. This market sector has been more ready and able to move, and this has helped maintain higher-end prices. Of course, if inflation is taken into account, the value of all property types has fallen in real terms. That aside, until affordability and lending for first-time buyers improves, we expect that detached homes will continue to outperform the rest of the market."
Notes for Editors
Over the last 24 years, Home.co.uk has become established as a dynamic, innovative and ethical service. By providing the UK's most comprehensive Property Search and Estate Agents directory coupled with detailed House Price analysis, Home.co.uk delivers the real power of the Internet to inform and empower estate agents, homebuyers, renters, landlords and sellers in across the UK.
Contact Details
Email:
Phone: 0845 373 3580
Back to Home.co.uk Press