Press release: 21st June 2017
The UK property rental market has seen a worrying slump of 11.6% in available stock over the last six years, according to new figures released by Home.co.uk. In some areas the fall is much more dramatic and can only compound people's housing woes.
Scotland has seen the most dramatic fall, with a 34.7% decrease in available properties to rent between July 2011 and June 2017.
In Wales over the same period there has been a fall of 28.1% while the South West has seen a decline of 26.5%.
In total, seven out of 11 UK regions saw a fall in excess of the UK-wide average. This includes a decrease of 24.6% in the East Midlands, a fall of 20.8% in the South East and a drop of 16.7% in the West Midlands. The supply of available stock in East Anglia has dropped by 11.9% since 2011.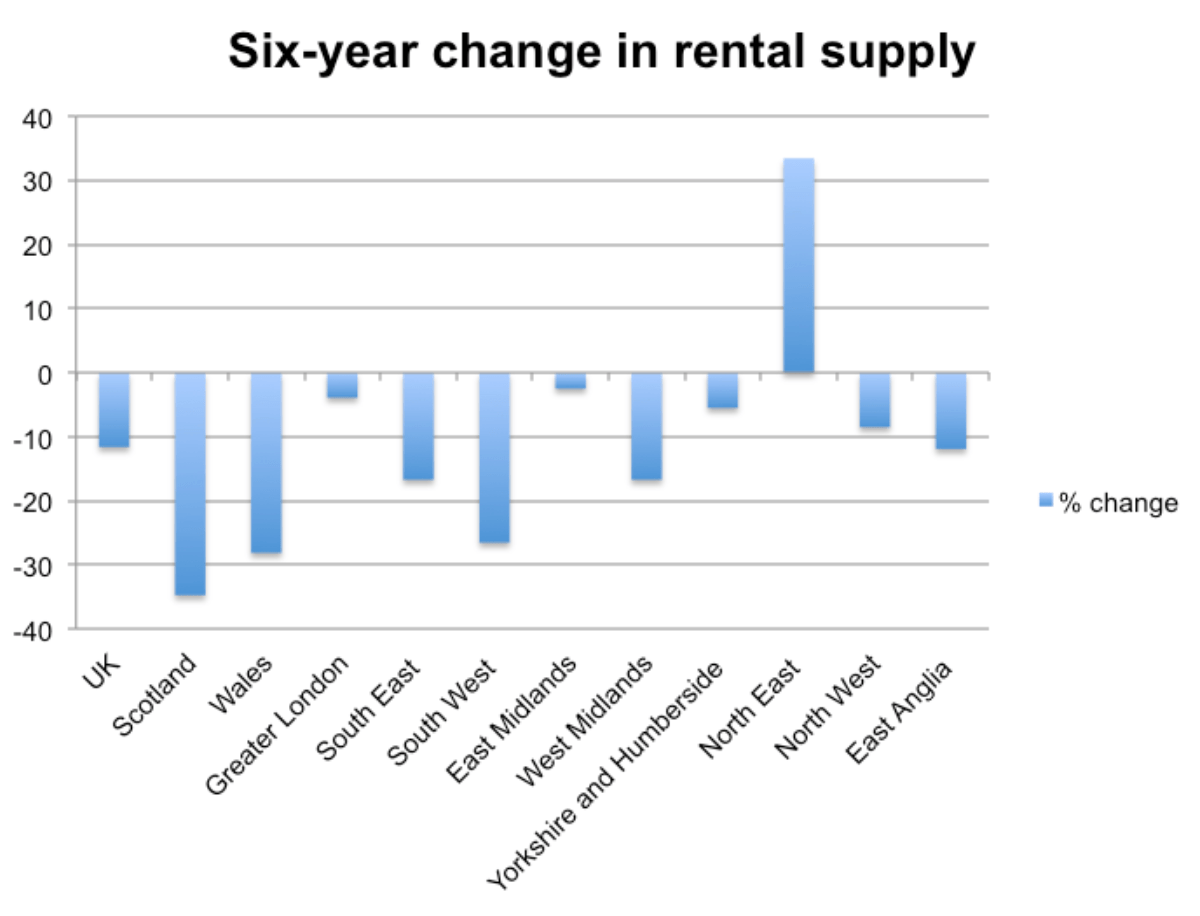 Three areas saw dips in supply below the UK-wide average since 2011: Yorkshire and Humberside by 5.5%, the North West by 8.5% and Greater London by 3.9%.
Just one area, the North East, saw a rise in supply, bucking the national trend with an increase of 33.4% in available property to rent. This regional property market has stagnated ever since values plunged after the credit crunch and many vendors resorted to letting out their properties rather than sell at a loss.
But why are there fewer homes for rent in all other regions despite massive growth in the Private Rental Sector (PRS)?
Persistent and growing demand for homes to let over several years has come from Generation Rent. A whole generation simply cannot afford to buy and have no choice but to remain in the rental market. Moreover, recent legislative changes in the sector are making the situation much worse. Indeed, some landlords are selling up or downsizing their portfolios simply to avoid making a loss, resulting in falling supply, and those that remain in the sector are forced to raise their rents.
A recent factor in the supply drop in most regions has been a change in the way buy-to-let investments are taxed. For example, from April individual buy-to-let investors are unable to offset all their mortgage interest against their profits and, within the next three years, none of this interest will be tax deductible.
Another factor has been the increased red tape involved in additional licensing for Homes of Multiple Occupancy (HMOs), whereby councils can impose their own licensing on HMOs.
A third disincentive for landlords was the change in stamp duty last year.
But for those landlords who are keeping calm and carrying on in areas of low supply the rewards can be significant, as strong demand means rents rise to ensure a good yield. On the other hand, however, renters are far less likely to be able to save for a deposit when rents are rising.
Among areas with the largest fall in supply, Wales has seen rents increase by a demand-driven 11.3% over the last year and, during the same period, Yorkshire has seen rents rise by 8.4%.
In Scotland the last six months have seen an increase of 5.4% in the average rent.
In the South West rents are up 5.7% over the last 12 months while in the South East the average rent increase is 0.9% and in the East Midlands the rise over the same period has been 4.5%.
It is a different story for those areas where supply is holding firm or rising.
London's more modest dip in supply has seen rents fall by 5.3% over the last 12 months, due to over-investment in the PRS last year driven primarily by the stamp duty changes.
In the North East there has been a fall of 8.9% over the last six months, indicating that the long-term increase in supply of rental properties is having a negative effect on rents.
Home.co.uk director Doug Shephard said: "It is ironic that the government's justification for tax changes in the PRS was to 'level the playing field' for wannabe homeowners. The result of this barrage of red tape and taxation, at both local and national government levels, has meant that the supply of rental properties has fallen behind demand in most regions thereby driving up rents. Of course, it's not the first time that government tinkering and tax grabs have backfired but the upshot for Generation Rent is appalling.
The 'elephant in the room' for the government is that record low mortgage interest rates have driven unprecedented investment in the PRS over recent years. Simply put, those already with significant home equity have been able to come up with deposits for properties intended to let whilst aspiring homeowners are as cash-strapped as ever as they pay out huge sums in rent. However, ultra-low interest rates and the associated pain for renters look set to persist for the foreseeable future."
Notes for Editors
Over the last 27 years, Home.co.uk has become established as a dynamic, innovative and ethical service. By providing the UK's most comprehensive Property Search and Estate Agents directory coupled with detailed House Price analysis, Home.co.uk delivers the real power of the Internet to inform and empower estate agents, homebuyers, renters, landlords and sellers in across the UK.
Contact Details
Email:
Phone: 0845 373 3580
Back to Home.co.uk Press