Stand out from the crowd with the low cost Home.co.uk Premier Agent programme.
Many thousands of web-savvy Estate Agents across the UK already enjoy the commercial benefits of free listings for both their properties and their Agency offices on Home.co.uk. However, in response to the many requests we've received from UK Estate Agents for extra promotion on Home.co.uk, we have launched the Premier Agent Service.
The Home.co.uk Premier Agent Service costs just £299/office/year (+VAT). Agents may also pay quarterly at a rate of £99/office/quarter (+VAT). For a typical Agent office with 50 properties for sale this service produces a huge increase in highly targeted visitor traffic (buyer and sellers) for the equivalent of less than 1p/click!*
Any Estate Agent office, which is listed in the Home.co.uk Estate Agent Directory, can become a Home.co.uk Premier Agent and gain the following extra benefits.
Premier Agent Directory Listing
Your Agency office(s) will be given a highlighted listing at the head of the search results in our Estate Agent Directory as a Premier Agent and receive around 5 times more seller leads (potential instructions). Premier Agents are promoted above all other Agents for a given town and related postcodes in the Home.co.uk Estate Agent Directory.
To find your Estate Agent office in a particular town or postcode in the Home.co.uk Estate Agent Directory, simply enter the location into the box below and click on Search.
Premier Property Search Listing
Your properties for sale will be advertised as Premier Properties, highlighted and promoted to the top of the page of our search results, increasing your buyer traffic by 10 times. The few Agents whose properties are currently not listed in the Home.co.uk Property Search Index are encouraged to broaden their property advertising via one of Home.co.uk's Portal Partners.
Alternatively, Agents can find information on our free direct upload options on Uploads To The Home.co.uk Property Search Index.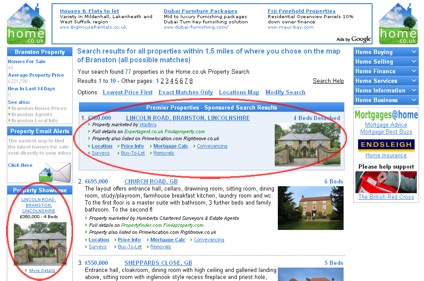 Premier agents benefit from accelerated property sales thanks to the increased exposure of their properties in the Home.co.uk Search Results pages. Added exposure is provided by virtue of our Property Showcase (at the left hand side of the screen) and Premier Property listing (at the top of the search results).
Premier Agent Pitch
Premier Agents may provide a short paragraph of promotional text for insertion into each of the Agency details pages on Home.co.uk devoted to their Agency offices. We recommend that Premier Agents use this opportunity to differentiate their service from that of other local Estate Agents. The Agent details page links directly to your website and therefore has the added benefit of raising your Agency's online presence in the major Search Engines such as Google, Yahoo and MSN.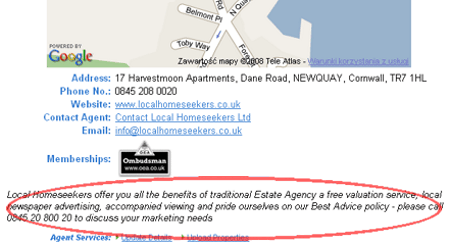 To Start your Premier Agent Account
Online: to set up your Premier Agent account online, simply follow this link to the Premier Agent Set-up page. You will need a credit card or debit card to set up your account online. Setting up your Premier Agent account online has the benefits of less paperwork, quicker implementation and the option of automatic repeat billing for your chosen time-frame.
By Post: to apply for a Premier Agent account by post, simply print off our Premier Agent Order Form, complete and return by post with a cheque for your first payment. Once we have received the above we can process your order and open your Premier Agent account. 30 days prior to the next billing period we will send you an invoice by email for the time-frame and number of offices you have specified. Follow-up invoices must be paid in full before the start of the next billing period to guarantee continuation of service.
Payment is required in advance by either method (online or by post).

Premier Agent

promotion will commence within 5 working days of receipt of the amount due.
Refunds are at the absolute discretion of the Home.co.uk management.
Welcome to Home.co.uk!
To request more information on our Premier Agent Service please email your enquiry to property@home.co.uk.
Back to: Services For Estate Agents